We know that in this trying time, many of your regular events have been cancelled or postponed. However, that shouldn't stop you from having fun! In this website you'll find recipes, games, and alternatives to Trick-or-Treating, including directions on how to set up and links to directly purchase the product if you're interested enough!
31 Ways to Have a Great Halloween in Quarantine!
Alternatives to Trick-or-Treating | Games to Play this Halloween | Recipes
Alternatives to Trick-or-Treating
Trunk-or-Treat
If Trick-or-Treating is too much for you and your family, try out a Trunk-or-Treat! Trunk-or-Treating is a safer than Trick-or-Treating for a number of reasons. For one, you can organize it with people you know are handling the pandemic well, and you can have kids go around cars one by one or in their groups to limit exposure!
How to Do: Have your group of cars in some sort of formation that makes it easy for kids to access your car's trunks. Next, have your station ready and easily-accessible for kids to come by. When each rotation of kids walk by, chuck as much candy as you can at them!
Components: Candy, plastic tubs, airhorn for signaling the next rotation of kids!
Goody Bags
Who doesn't love a good goody bag? With these bundles of goodness you can either hand them to people if they choose to come to your door, or drive around your neighbor or go around your apartment and drop off the bags to houses with kids in them!
How to Do: Use the components provided to create the ultimate bag of treats and tricks to bring joy to all the kids stuck at home.
Components: Goody Bag Wrappers, Candy, Chocolate, Toys, Ribbon
Scary Movie Outdoors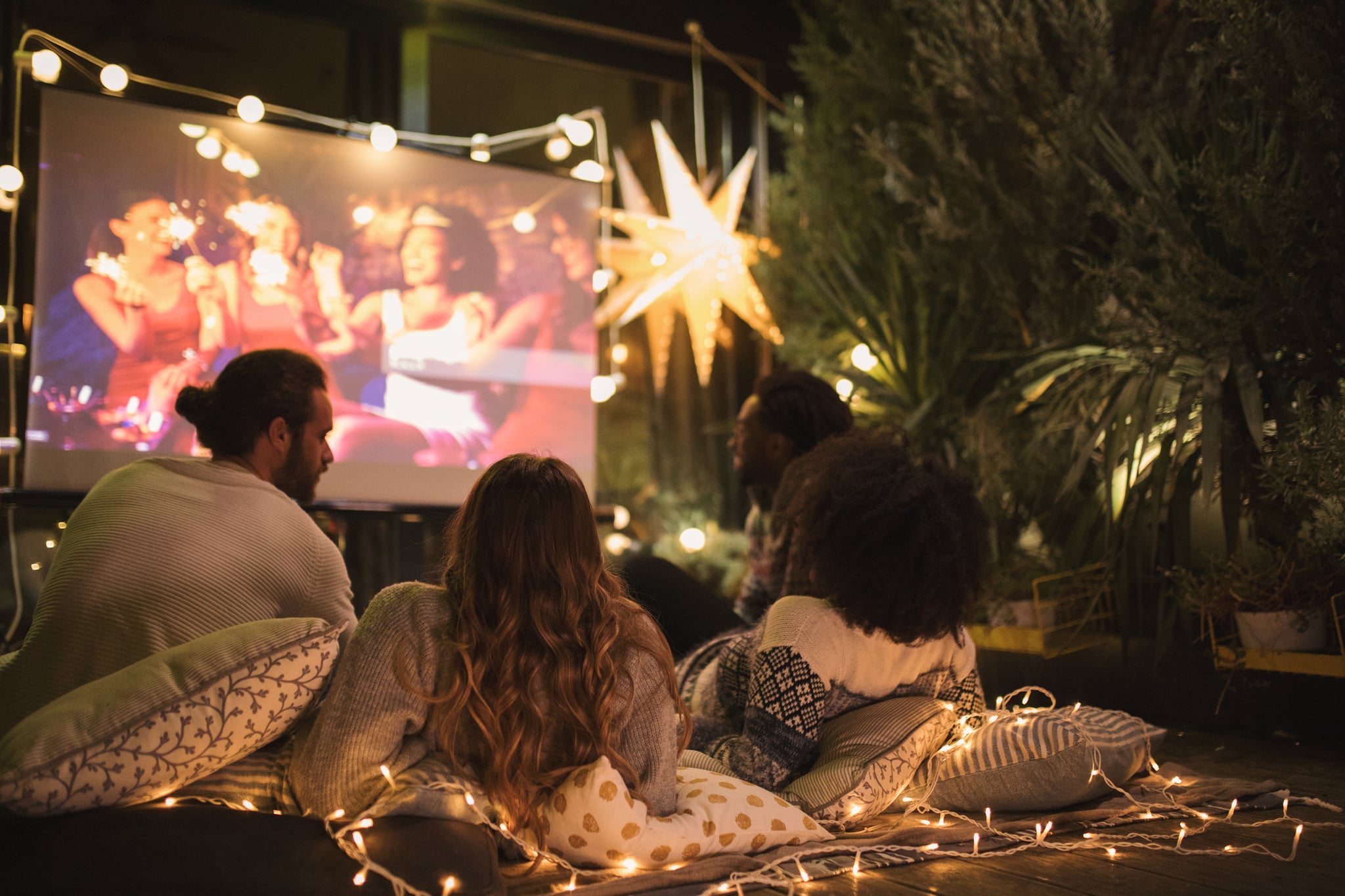 Trick-or-Treating isn't the only tradition centered around Halloween. With an outdoor projector and some cozy blankets, you can snuggle up with your quarantines or socially distance from friends and family as you watch a scary movie.
How to Do: Get the gang, make sure it isn't going to rain, wait until it gets dark, find a spot to set up your projector, and PREPARE TO BE SCARED. Make sure you know how to set up your projector and have something to hook the projector up to before you get all cozy.
Components: Projector, Outdoor Blankets
At Home Trick-or-Treating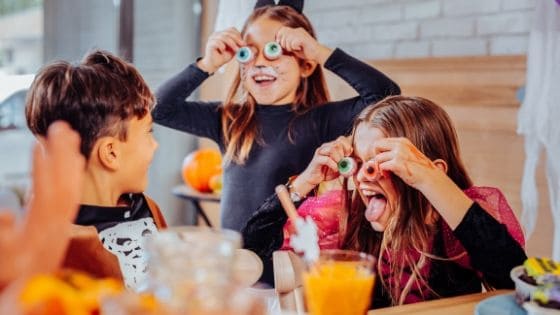 If none of these other suggestions are enough to quell your children, try setting up an indoor Trick-or-Treat station! It'll be a lot of work, but trust me, it'll be worth it. Use yourselves, action figures, dolls, and stuffed animals to work the booths and let the kids run around the house to each station to collect their treats!
How to Do: Set up multiple stations around your home so candy is easily accessible for your kids, and once the candy plundering is over, snuggle up and watch a movie and chow down on your haul!
Components: Cardboard, Duct Tape, Cardboard Scissors, Large Sharpies (multicolor), Large Sharpies (black)
Costume Fashion Show
It would be a crime for Halloween to go by without showing off your mad costume skills. You can do this with an audience of inanimate objects, and/or set up a group session with kids of similar age to your child/children and do it virtually! Of course, you could always have a private show with the people that live in your home!
How to Do: Collect the costume(s), set up the audience, log on the call with your or your children's buddies or family, and let the show begin!
Components: Mini Spotlights, Plenty of Costumes
Candy Buffet
If you really, really don't wanna leave the home this Halloween, set up a candy buffet. It's pretty simple. Set up multiple candy stations and go around until you've concocted the ultimate candy dish!
How to Do: Set up candy stations that either start with ice cream or some other center thing for the rest of the candy to revolve around, and load up on all your favorite sweets!
Components: Candy (you'll want more than this), Bowls and Utensils
Candy Themed Science Experiments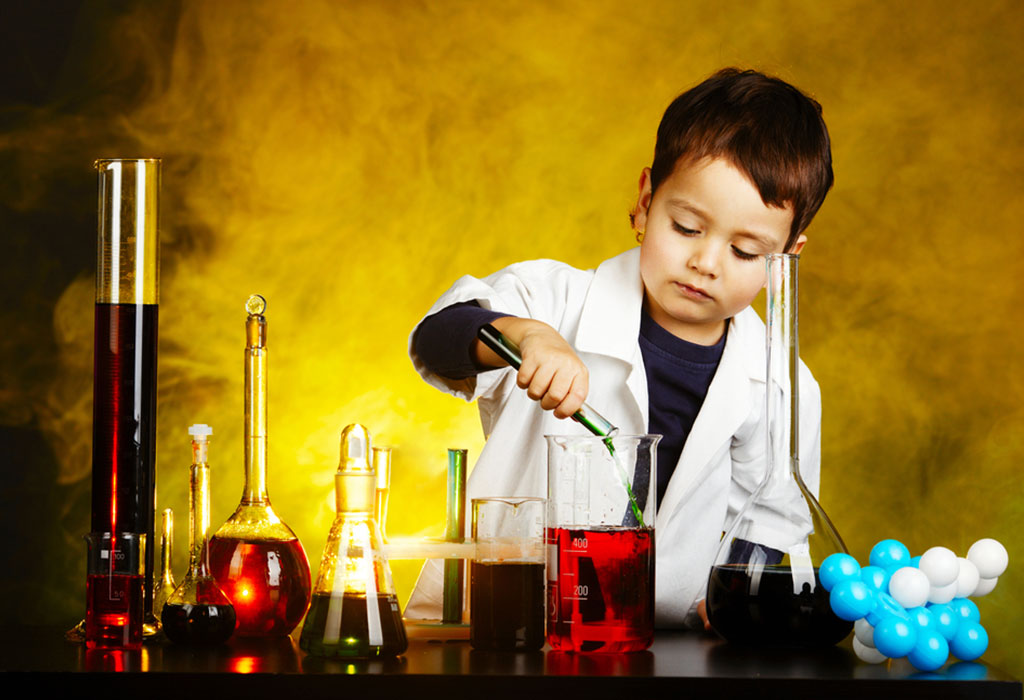 What kid doesn't love mixing and mashing shampoo bottles and dirt? Well, try creating a potion with candy and not only will it be colorful and fun, but you can eat the end result! Plus, you get some snazzy science gear to create a scientist costume!
How to Do: Gather up an assortment of sweets then melt and mix at your leisure!
Components: Lab Equipment, Extra Goggles, Lab Coats, Candy
Mini Makeshift Trick-or-Treating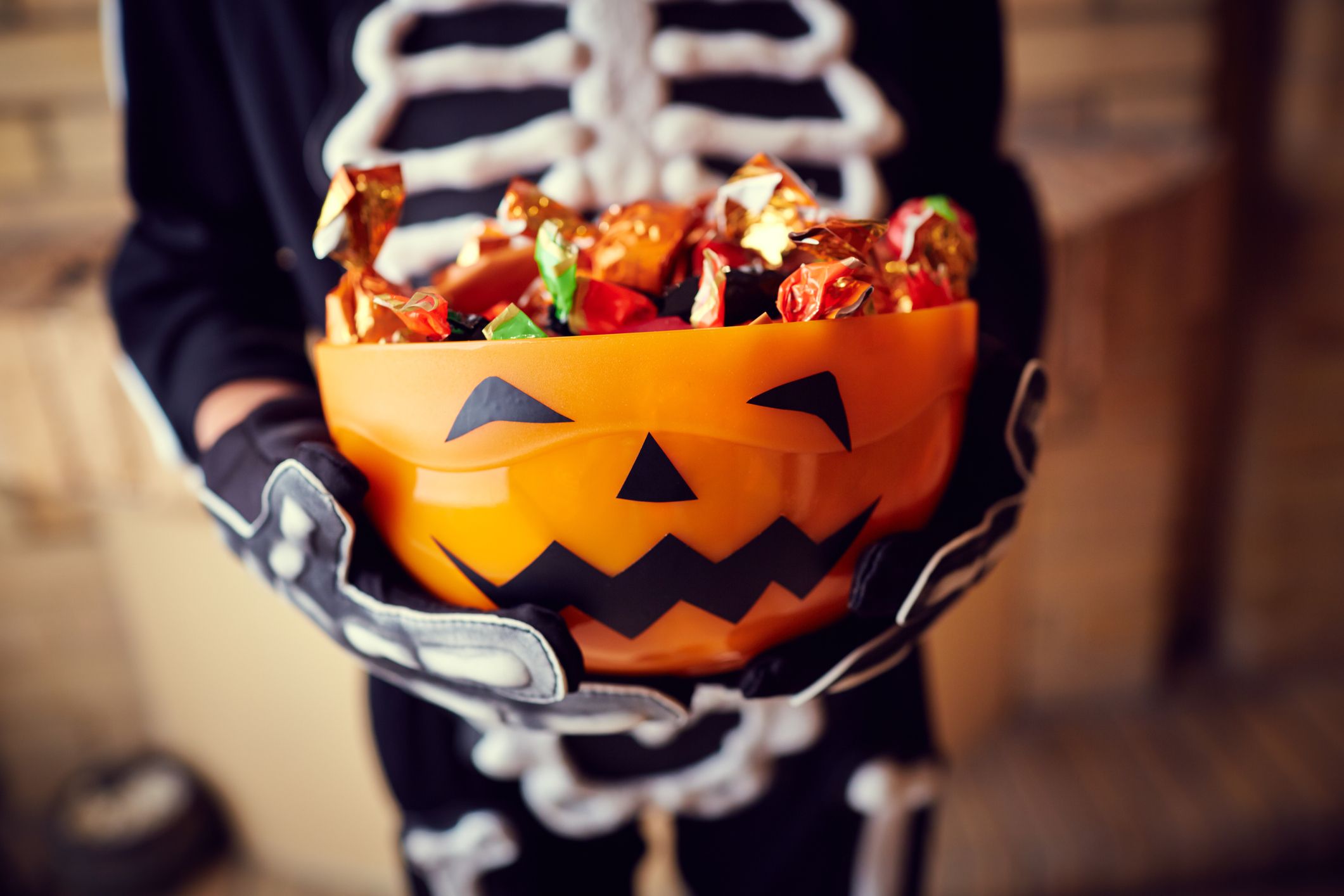 If none of these supplements are enough to hold your attention, then try holding a mini Trick-or-Treat! Sort of like an at home Trick-or-Treating, but instead of just your family at home, try reaching out to people you know are handling the pandemic well and organize a little event in your backyard or other large space!
Use some of the other given components from other activities to piece together your set-up.
Haunted Trivia
For those wise cracking know it alls, this game is for you! It's regular trivia except we chose the theme for you.
Components: Serial Killer Trivia, Death by Trivia, Horror Trivia, Halloween Facts and Trivia for Kids, Halloween Would-you-Rather
Haunted Home
TURN YOUR HOUSE INTO A HAUNTED HOUSE!!! YoUR CHILD WILL GO TO BED NOT KNOWING WETHER THEY WILL WAKE UP IN THEIR ROOM OR A GRAVEYARD! MWUHHAHAH!
Decorations: Halloween Streamers, Tunnels, Get your own Scary Masks, Black Cloth, Bloody Garland Banner, and whatever else you think will be the scariest in your Haunted Home!
---
---
Games to Play this Halloween
Medusa Tag
The Greek monster Medusa could turn whoever looked at her to stone. And in this game, so can you! Whoever wears Medusa's head can turn whoever she touches to stone. Once everybody has been turned to stone, Medusa wins! But if one hero steals the headpiece off of Medusa's head, then Medusa loses!
How to Play: One person wears Medusa's Head, and whoever she tags is frozen. They cannot be untagged, but of course this can be changed with the players discretion. The way to beat Medusa is to cut off her head, or steal her headpiece without being tagged.
Components: Medusa's Head
Marshmallow Towers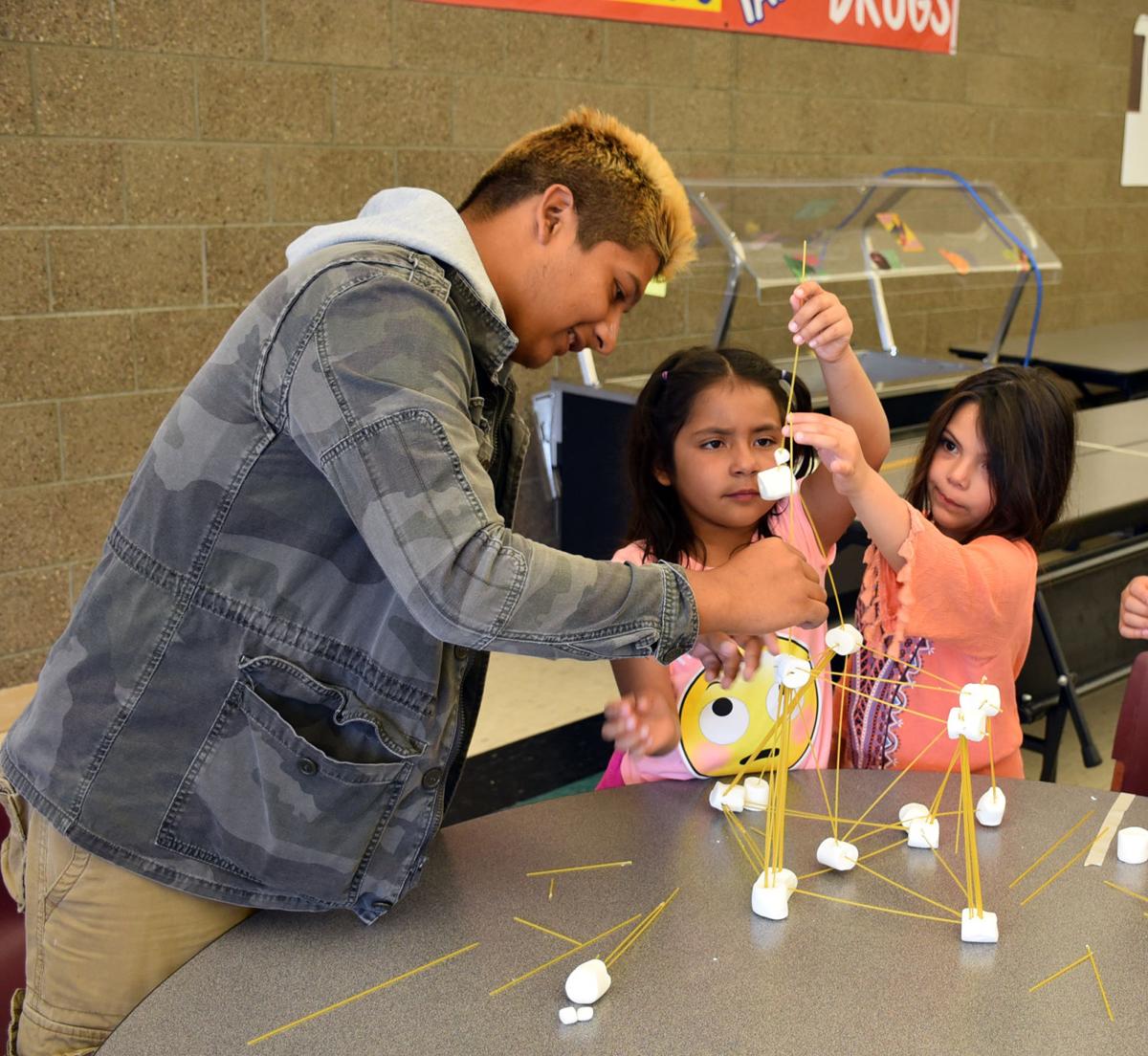 In this game, opponents who among them truly is the brightest visionary. Use toothpicks and marshmallows to build epic structures. Whoever has the biggest and best structure when time runs out wins!
How to Play: Build structures using marshmallows and toothpicks, usually with a time limit and different goals for each round.
Components: Marshmallows, toothpicks, stopwatch.
Apple Bobbing
Who doesn't love a good apple bobbing?
How to play: Try to grab as many apples as you can from a water filled bucket in the time limit provided.
Components: Apples, large bowl
Scary Mask Making
Trick-or-Treating may be cancelled, but you can still show off your scary outfits!
How to Play: Using a variety of different pieces, contesters have to create masks that fits the challenge provided! Wether it's the scariest or funniest, your creativity will be put to the test.
Components: Mask making kit
Board Games
For those who prefer a quieter Halloween, a nice board game is the way for your family!
Components: Stupid Deaths, Halloween Charades, Boo-opoly, Villainous
Toilet Paper Tag
A lovely Halloween tradition, most popular among adolescents, it to toilet paper people's houses. However, a safer and more fun way to incorporate toilet paper in your Halloween is toilet paper tag!
How to Play: Each player is given two or three rolls of toilet paper. Wether it's inside or outside, the players must try to cover each other and their surroundings as much as they can if they hope for a chance to win. And once you run out of rolls, just pick one up off the ground!
Components: Toilet paper
Pin the Tail on the (___)
For younger kids, pin the tail on the blank games are always a hit.
How to Play: Blindfold the players one at a time, spin them around, and let them try to pin the tail/nose/horn on whatever their target may be. The person closest to the target wins!
Components: Pin the Hat on the Pumpkin, Pin the Nose on the Skeleton
Pumpkin Carving Contests
Another classic Halloween tradition is pumpkin carving! This can be played competitively or just for fun, but the gist remains the same. Try your best to carve the best pumpkin you can!
How to Play: Carve a pumpkin! (Preferably with adult supervision)
Components: Pumpkin Carving Kit
Playdoh Monsters
Who says Playdoh is just for kids? All ages can join in and have fun with this spooky craft. This could be a recreational activity or be turned into an all-out competition to see who can create the best Playdoh monster! Of course, you don't have to make monsters with the Playdoh, you can build and create whatever you want!
How to Play: Use the Playdoh to create the biggest and baddest monster you can!
Components: Lots of Playdoh!
Tissue Paper Mummies
With this activity, two to three teams split off to see who can use the materials provided to turn their target into the most convincing mummy!
How to Play: Wrap tissue paper around a person within the given time limit. Whoever's mummy is showing the least amount of skin, wins!
Components: Tissue Paper
---
Recipes
Pumpkin Cupcakes
No Halloween is complete without pumpkins, and it wouldn't be right to leave pumpkins out of your food either.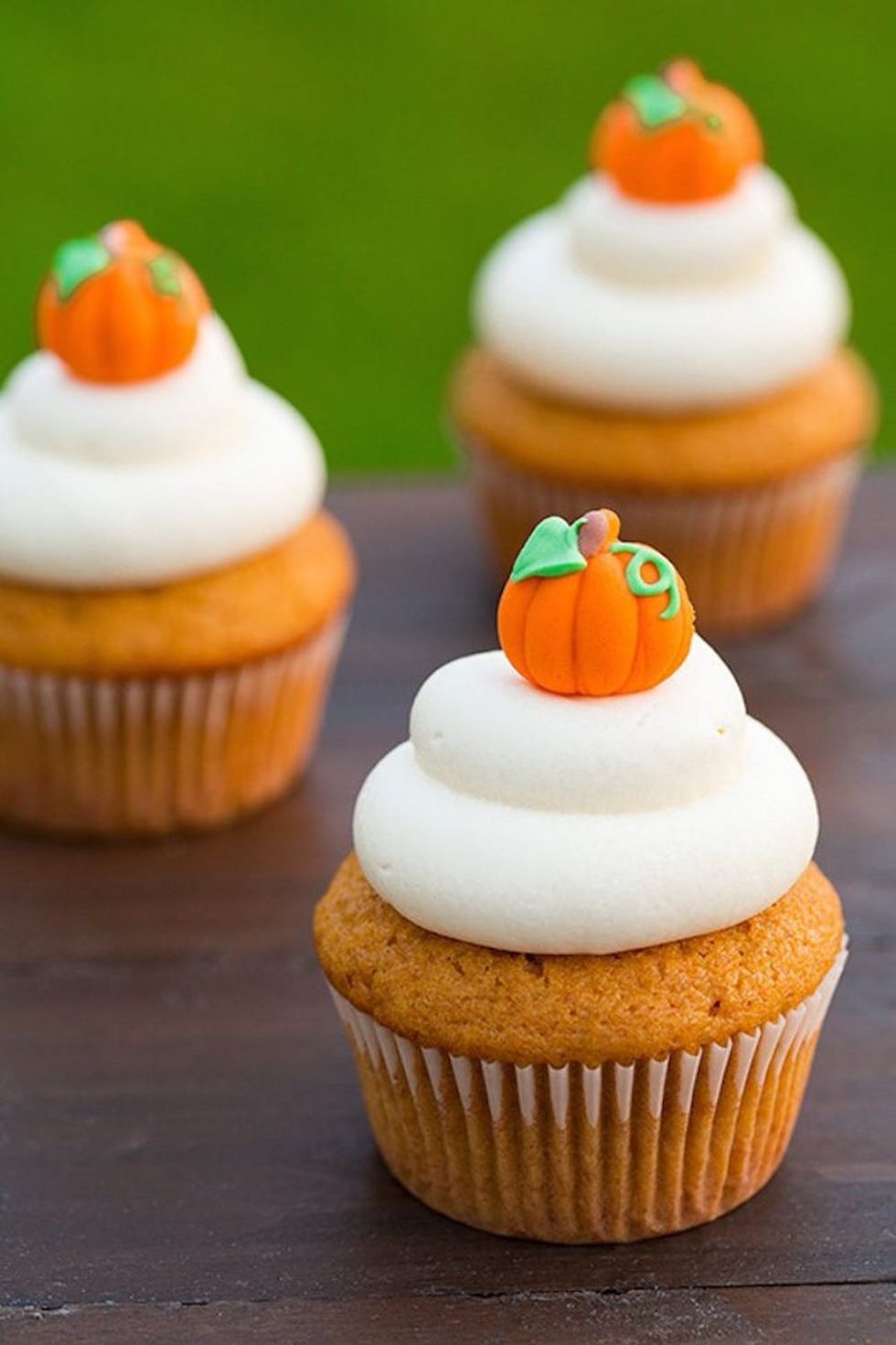 Ingredients Needed for the Cupcakes
– All-purpose flour.
– Baking powder and baking soda
– Salt
– Spices including cinnamon, nutmeg, ginger and cloves
– Unsalted butter
Vegetable oil
– Brown sugar and granulated sugar
– Eggs
– Vanilla
– Canned pumpkin
– Orange juice
How to Make Pumpkin Cupcakes
– Preheat oven to 350 degrees. Whisk together dry ingredients.
– In an electric stand mixer fitted with the paddle attachment, mix together sugars. Add in butter and half of the oil and whip until pale and fluffy. Mix in remaining oil then blend in eggs one at a time. Mix in vanilla.
Mix in flour alternating with pumpkin and orange juice.
Divide batter among lined muffins cups, filling each about 3/4 full.
– Bake in preheated oven until toothpick inserted into cupcake comes out clean.
– Cool then frost.
Via: Cooking Classy
Spooky Rice Krispies
There is hardly ever a Halloween party where someone doesn't bringRice Krispies, and this tradition shouldn't stop with you.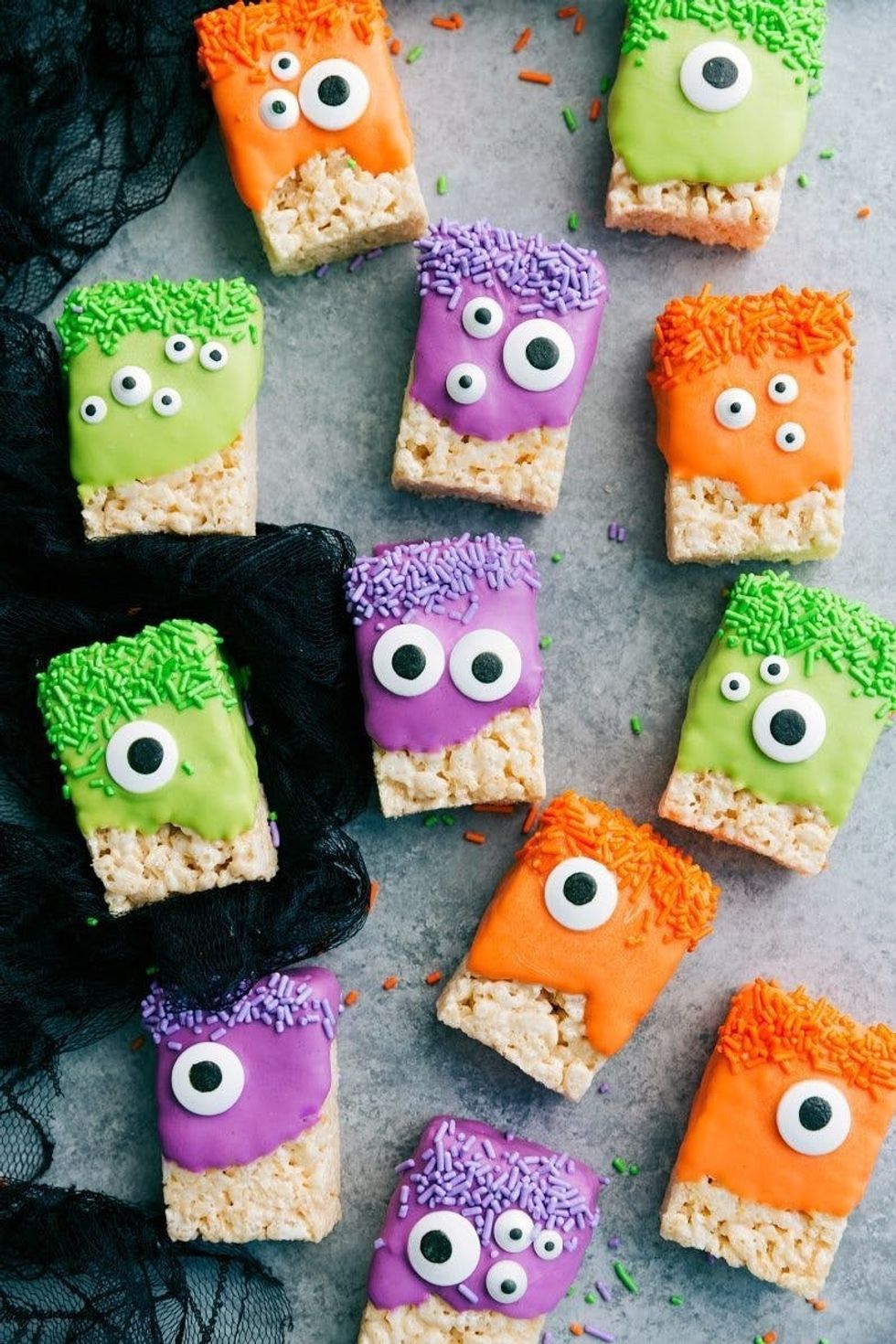 Ingredients Needed to make Spooky Rice Krispies
– Parchment Paper
– Candy Eyeballs
– Candy Melts
– Pre-made Rice Krispies
– Sprinkles
How to make Spooky Rice Krispies
– Line a large sheet pan with parchment paper and set aside.
– Add the candy melts (if using one color, separate it into 3 parts and if using different colors, place about 1/3 of each color) into microwave safe bowl(s).
– Add about 1 teaspoon shortening or vegetable oil if desired (optional, it just makes for smoother/easier application of the chocolate to the krispie treats) to each bowl of chocolate. (Use 1 teaspoon shortening to each 1/3 of chocolate candy melts)
– Microwave (one bowl at a time) of candy melts in bursts of 20 seconds, stirring vigorously in between each burst for 10 seconds.
– Meanwhile, unwrap the krispies treats.
– Once the chocolate is smooth, dip the krispie treats in the melted chocolate and then use a spoon to help spread it over the treat. You want it to be a bit ragged to look more like a monster.
– Working quickly (the melted candy melts harden fast), add candy eyeballs (however you want and whatever size you like) and if desired, colored sprinkles.
– Transfer to the prepared sheet pan and allow for the chocolate to set at room temperature. These are best enjoyed the same day they are made!
Candy Corn Peanut Butter Bars
Candy corn and peanut butter. Boom.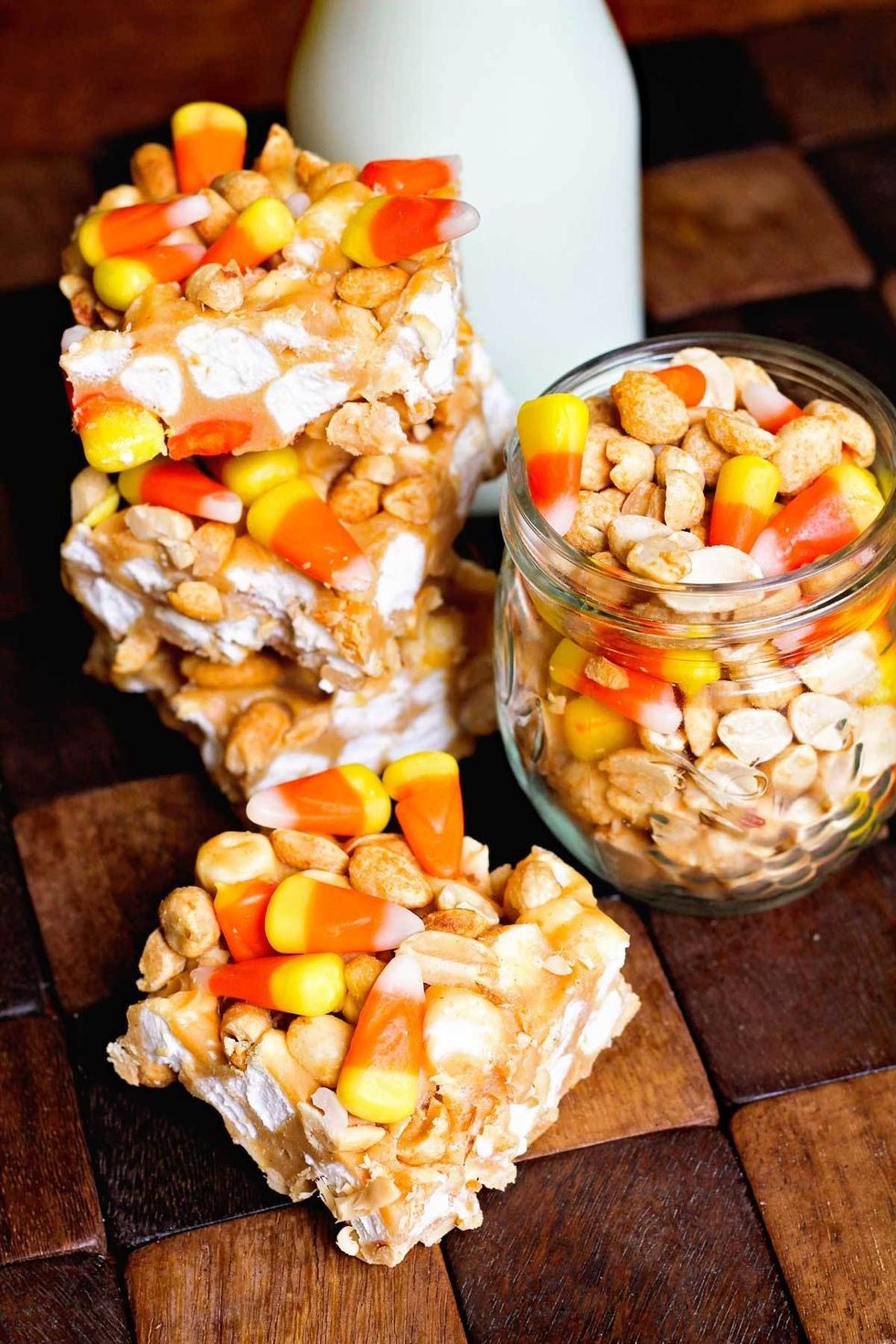 Ingredients Needed to make Candy Corn Peanut Bars
– Peanuts
– Candy corn
– Peanut butter chips
– Butter
– Sweet condensed milk
– Mini marshmallows
How to make Candy Corn Peanut Bars
– Mix 1 1/2 c. peanut and 1/2 c. candy corn in small bow. Spread on the bottom of a 9×13 in. pan.
– In a small saucepan melt peanut butter chips and butter over medium heat. Stir frequently. After it is melted add sweet condensed milk.
– Put marshmallows in large bowl. Add melted peanut butter mixture and mix until marshmallows are coated. Spread over the top of the peanut and candy corn in pan.
– Sprinkle the rest of the peanuts and candy corn over marshmallow mixture. Press into marshmallows. Refrigerate for easier cutting.
Candy/Caramel Apples
The classic candy apples! You see them in cartoons all the time, so it's about time you made them for yourself!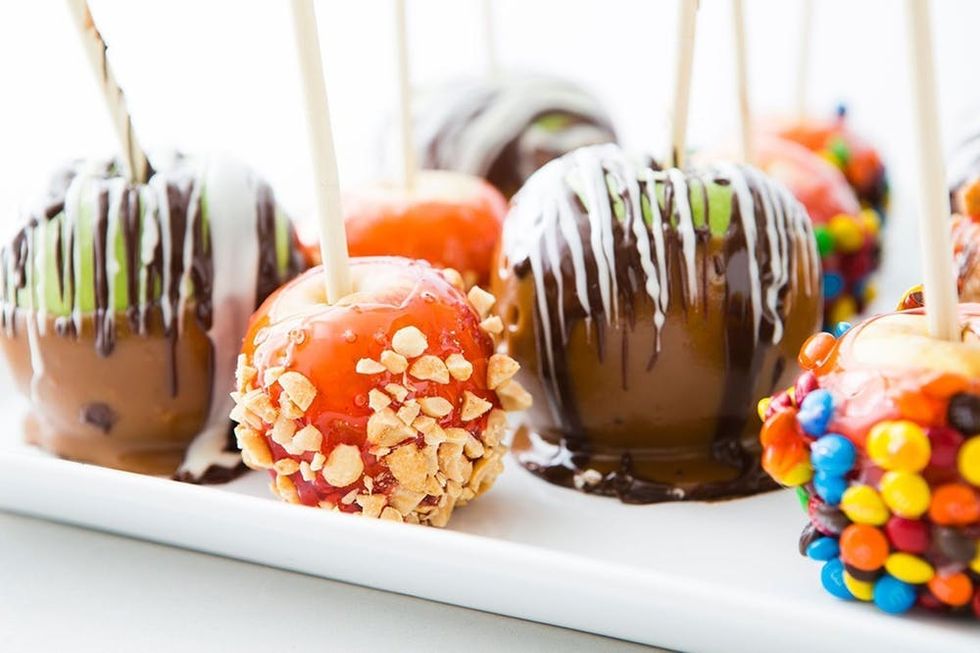 Ingredients to make Candy/Caramel Apples
– 1/2 cup salted butter
– 2 cups brown sugar
– 1 1/4 cups light corn syrup
– 1 14-oz can condensed milk
– 2 teaspoons vanilla
– semisweet chocolate chips
– white chocolate chips
How to make Candy/Caramel Apples
– Push a candy apple stick or popsicle stick into each apple. Set aside. In a large saucepan, melt butter. Add the brown sugar and corn syrup. Cook over medium heat until mixture comes to a boil, 10-15 minutes. Stir in condensed milk. Cook caramel until a candy thermometer reads 250 degrees F. Stir in vanilla. Remove from heat.
– Working quickly, dip your apples into the caramel. Place on a baking sheet lined with wax paper. Let cool for 10 minutes.
– Place semisweet chocolate chips in a microwave safe bowl. Microwave for 1 minute. Stir. Continue to microwave in 30-second intervals until completely melted. Repeat with white chocolate chips.
– Using a spoon, drizzle the melted semisweet chocolate and white chocolate over the caramel apples. Enjoy!
Via: Brit + Co.
Monster Waffles
Halloween doesn't have to start in the evening. With this recipe, the fun can start as soon as you wake up!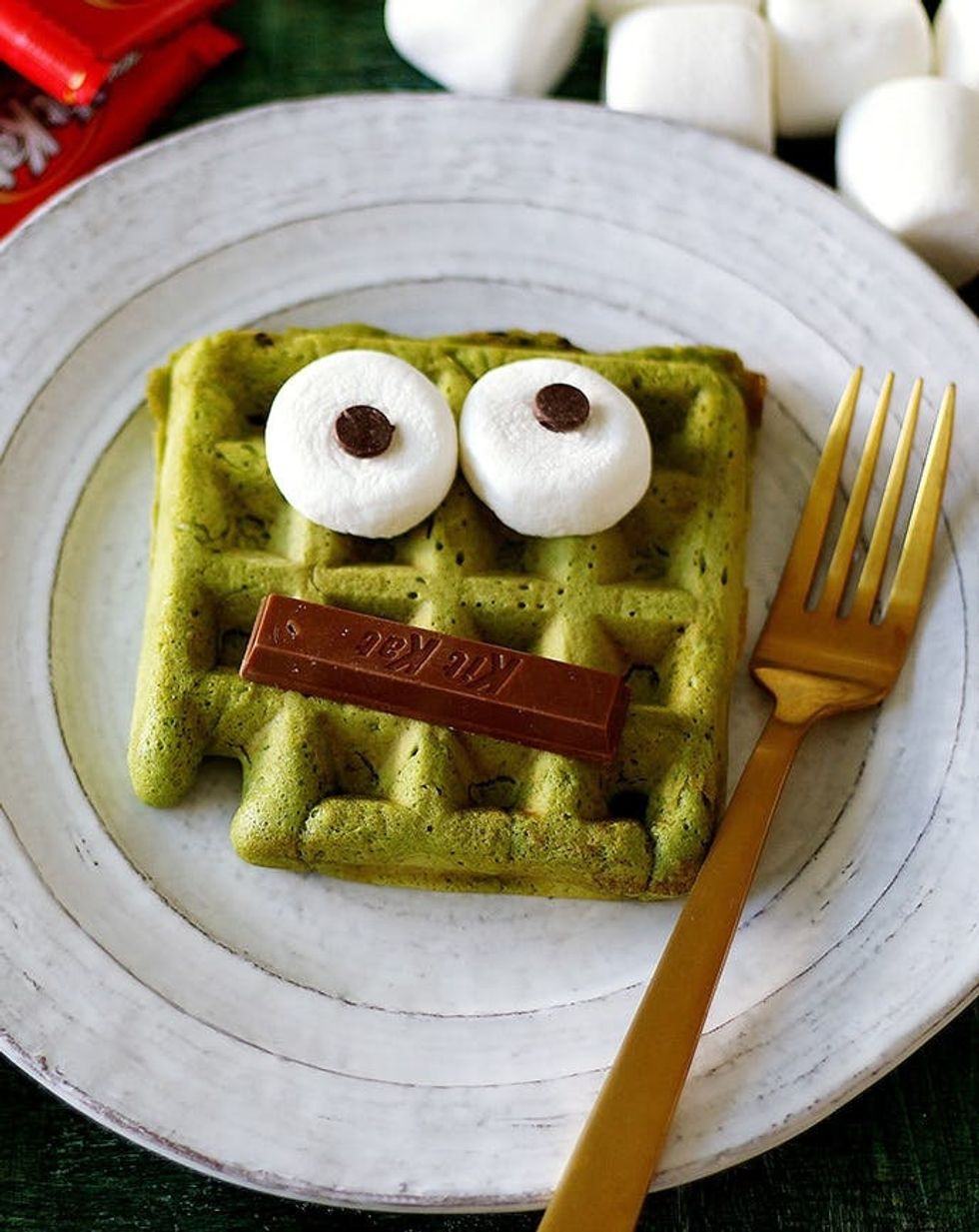 Ingredients Needed to make Monster Waffles
– Waffles mix
– Matcha powder
– Cooking spray
– Marshmallows
– Chocolate chips
– Candy bars
– Maple syrup
How to make Monster Waffles
– To get started, add few tablespoons of Matcha powder into your pancake mix and stir in a large bowl. Just add a few tablespoons of Matcha powder to about 3 cups of your waffles mix.
– Add water and mix vigorously with a spoon until the mixture is well blended.
– Heat your waffle iron and be sure to spray it with non-stick spray, coconut oil, or some other supplement.
– Scoop on about 1/4 cup of mix onto each section of your waffle iron, and then cook.
– Let the waffles cool just a bit on a rack then decorate with candy.
To Make the Eyes:
Cut a marshmallow in half and then on each half press a chocolate chip into the center. Press the pointy-side of the chocolate chip into the marshmallow so the flat side looks like a pupil.
To Make the Mouth:
You can use whatever you prefer to make the mouths. It usually takes a candy bar (works best with a kit-kat) but bacon or any other supplement will work just fine.
Via: Handmade Charlotte
Gummy Worm Jello-Shots
There's no rule saying that Halloween is only to be enjoyed by the kids. This treat is made only for adults so take sure to keep it out of the kid's hands.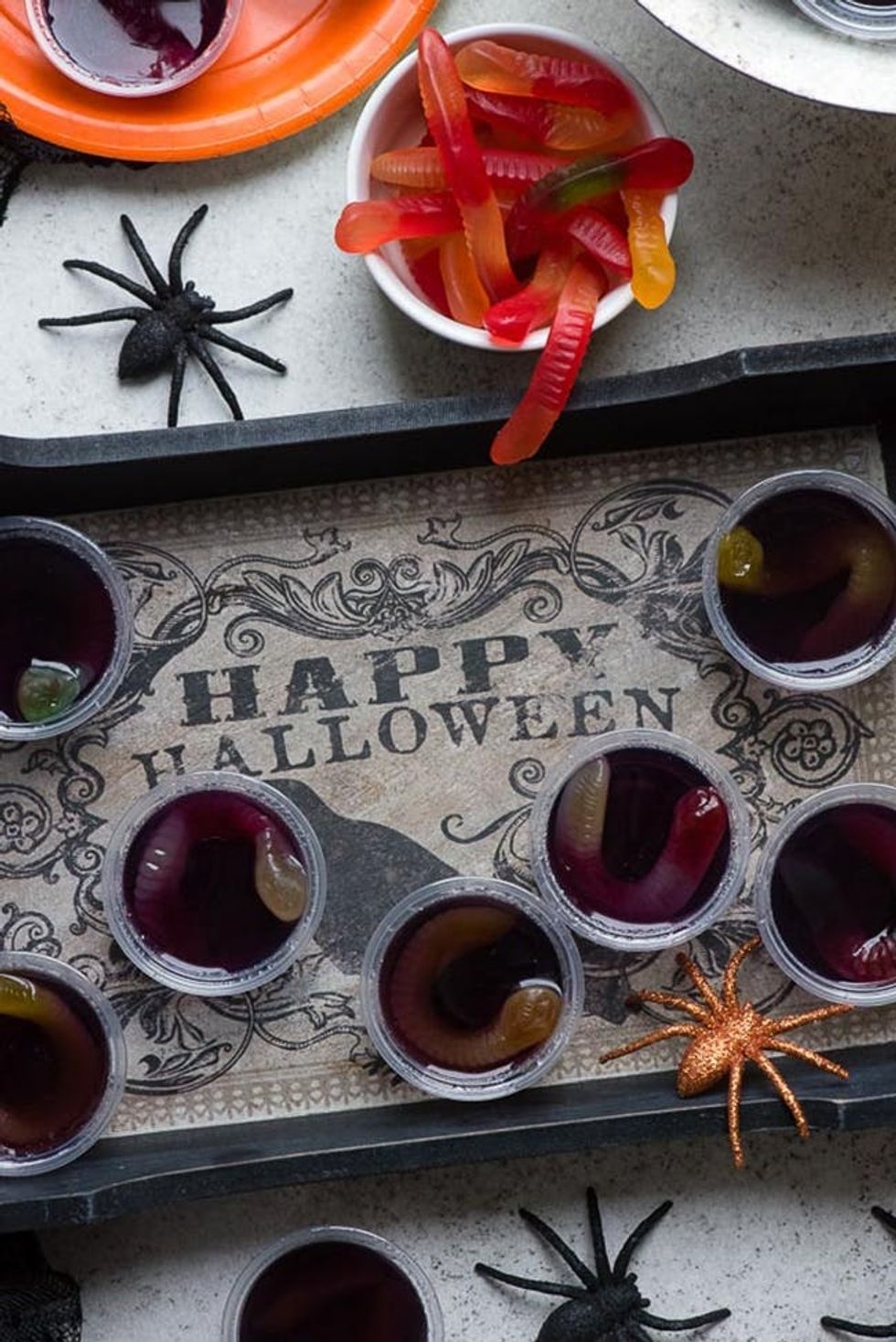 Ingredients needed to make Gummy Work Jello-Shots
– Grape Jelly
– Gummy Worms
– Vodka
How to make Gummy Worm Jello-Shots
– In a mixing bowl, mix Jello powder with boiling water until completely dissolved. Choose whichever Jello you want, usually the one that goes best with whatever jelly you use.
– Add vodka and cold water (vodka can be supplemented with water for a non-alcoholic beverage.
Place a gummy worm in a shot glass or other cup.
– Fill with the jello mixture; seal and chill until firm (best to be chilled overnight).
Via: Boulder Locavore
Bat Cake Pops
It may be ironic to be eating bats at this point time, but oh, are these things delicious!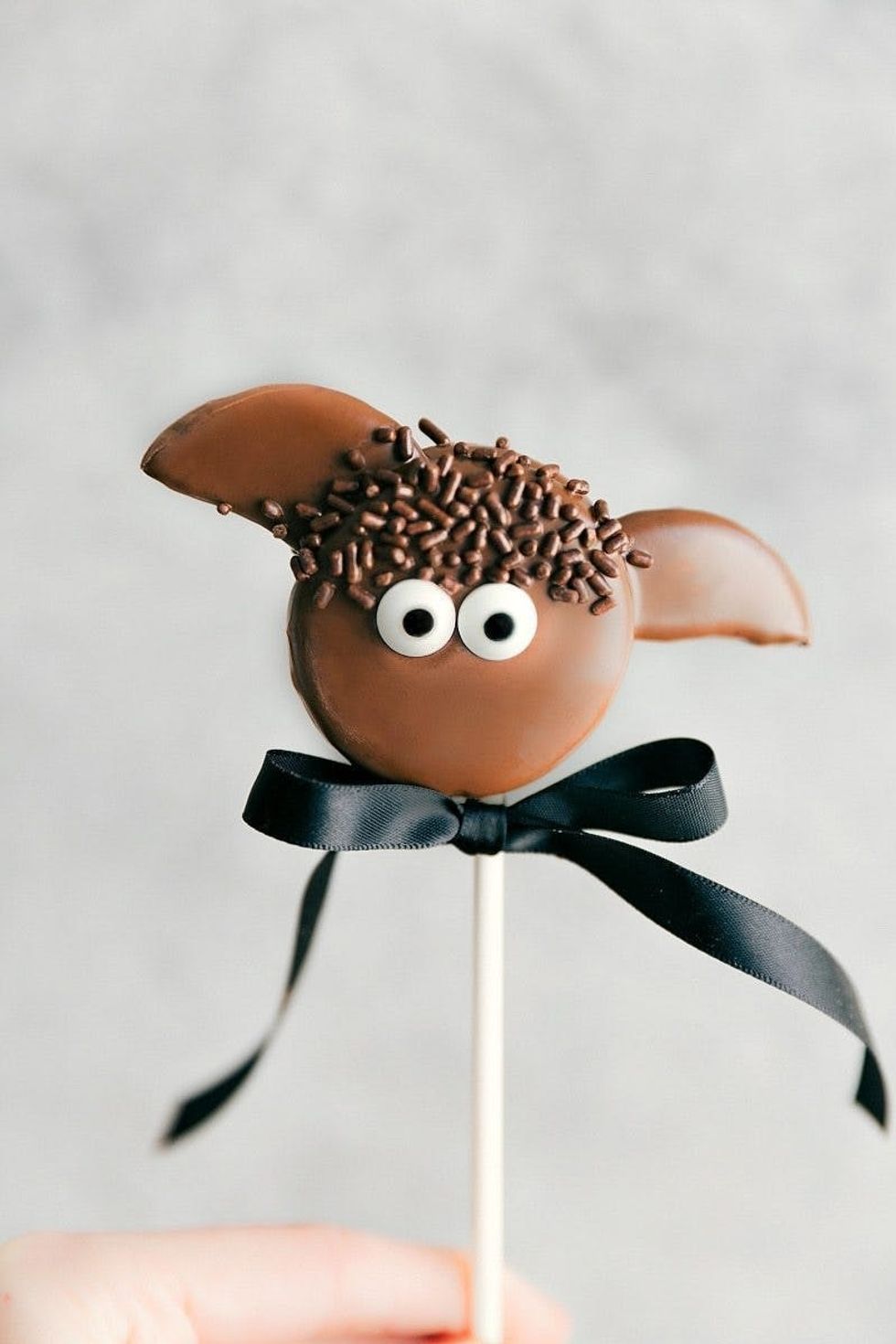 Ingredients needed to make Bat Cake Pops
– Parchment Paper
– Lollipop Sticks
– Candy Eyeballs (large, small, or bundle)
– Chocolate Jimmies Sprinkles
– Black Ribbon
More Specifically:
1 package of your favorite Oreos
1 bag (12 ounces) milk chocolate chips
48 edible candy eyeballs
1 package oreo THINS
Optional: chocolate sprinkles
Optional: vegetable oil or shortening — makes the chocolate easier to work with
Lollipop sticks
Parchment Paper
How to make Bat Cake Pops
– Line a large tray with parchment paper and set aside. Gently separate the oreos by slowly twisting them apart. (Some will break, it's okay, just try to be gentle)
– Separate the milk chocolate into 3 parts (this is to keep it from getting hard while you decorate) and place each section in a microwave safe bowl.
– Into each bowl of chocolate chips add about 1/2 teaspoon vegetable oil or shortening (more if needed to thin it even more).
– Melt in 20 second bursts in the microwave (Microwave 20 seconds, stir 20 seconds, etc.)
– Be patient when melting and stir well in between bursts to avoid burning the chocolate.
– Dip one end of the lollipop stick into the melted chocolate and press into the cream side of the oreo.
– Separate the oreo THINS and remove the creme filling. Break the thin oreos in half (again there will be some that don't work out; thats okay!) and then dip each edge of the oreo thins in chocolate and press into the creme filling on either side of the lollipop stick.
– Using a spoon, smear a little more melted chocolate on the other half of the oreo and then gently press on top of the "bat wings" and hold. Let harden completely (about 10-15 minutes).
– Gently spoon melted chocolate over the top of the oreos and the "wings". Lightly tap the oreo pop on the edge of the chocolate bowl to smooth the chocolate. Scrape the bottom side of the oreo pop against the bowl to remove excess chocolate and then place on the prepared parchment lined tray.
– Gently place two edible eyes into the melted chocolate and if desired, add some sprinkles above the eyes.
– Allow to harden at room temperature.
Witch Hat Cookies
The classic cookie is something everyone looks forward to in any celebration, and adding a little magic to the design just makes it that more scrumptious!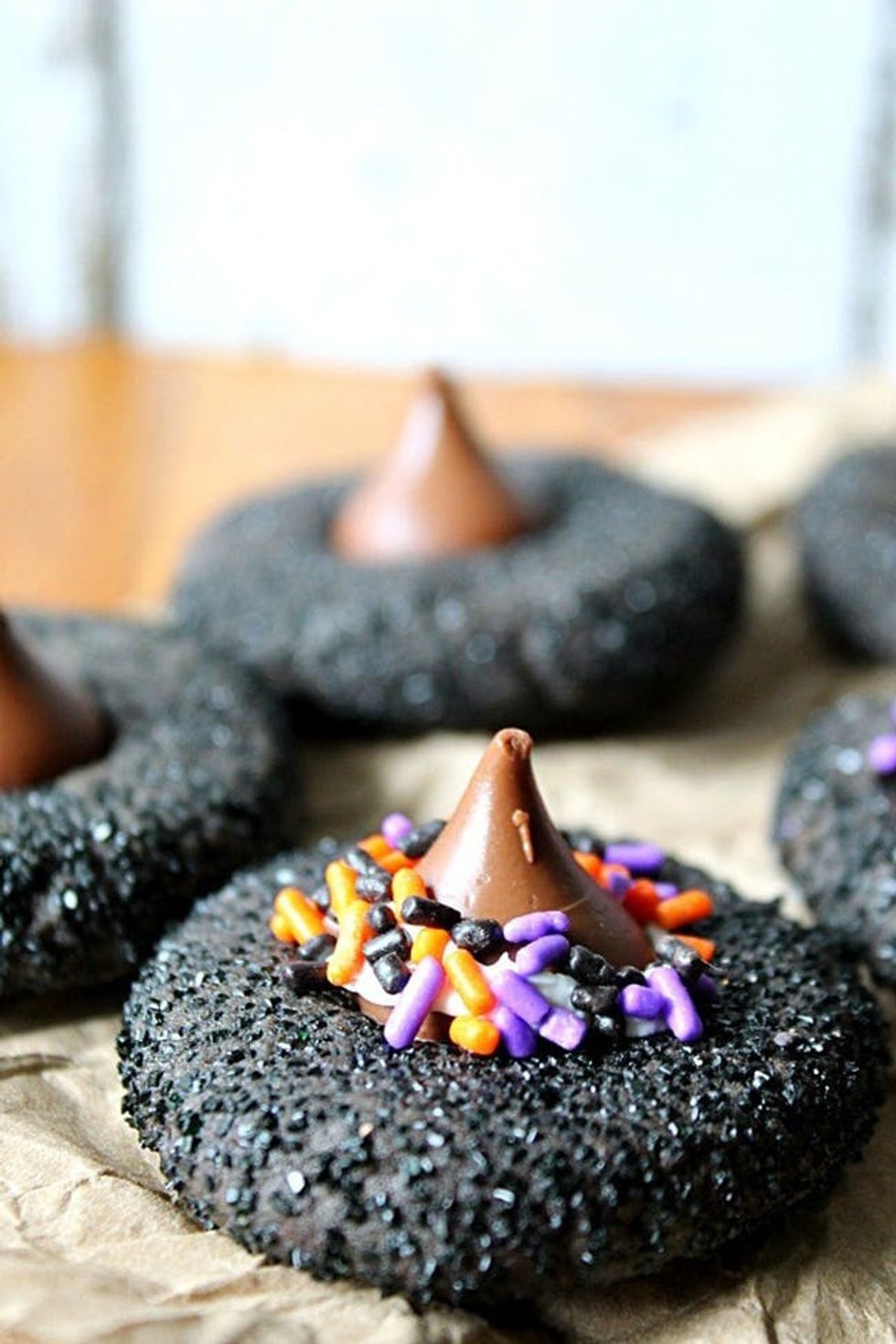 Ingredients needed to make Witch Hat Cookies
48 Hershey Brand Milk Chocolates
– 1/2 cup shortening
– 1 cup Creamy Peanut Butter
– 1/2 cup packed light brown sugar
– 1/3 cup granulated sugar
– 1 egg
– 2 tablespoons milk
– 1 teaspoon vanilla extract
– 1 cup all-purpose flour
– 1/3 cup HERSHEY'S Cocoa
– 1 teaspoon baking soda
– 1/2 teaspoon salt
– 1/3 cup black sugar sprinkles for rolling
– 1/2 cup chocolate chips
– decorative sprinkles
How to make Witch Hat Cookies
– Heat oven to 375°F. Remove wrappers from chocolates.
– Beat shortening and peanut butter in large bowl until well blended. Add brown sugar and 1/3 cup granulated sugar; beat until fluffy. Add egg, milk and vanilla; beat well. Stir together flour, cocoa, baking soda and salt; gradually beat into peanut butter mixture.
– Shape dough into 1-inch balls. Roll in black sugar sprinkles; place on ungreased cookie sheet.
– Bake 8 to 10 minutes or until set. Immediately press chocolate into center of each cookie; cookie will crack around edges. Remove from cookie sheet to wire rack. Cool completely.
– Melt chocolate chips in 30 second intervals until melted. Let cool slightly. Carefully pour into a ziplock bag and cut off tip. Pipe melted chocolate around kisses and immediately sprinkle Halloween sprinkles on. Makes about 48 cookies.
Via: Life with the Crust Cut Off
Spider Brownies
Spider-brownie! Spider-brownie. Does whatever a spider can. Filled with all kinds of chocolatey goodness. Look out! Here comes the spider-brownie!!!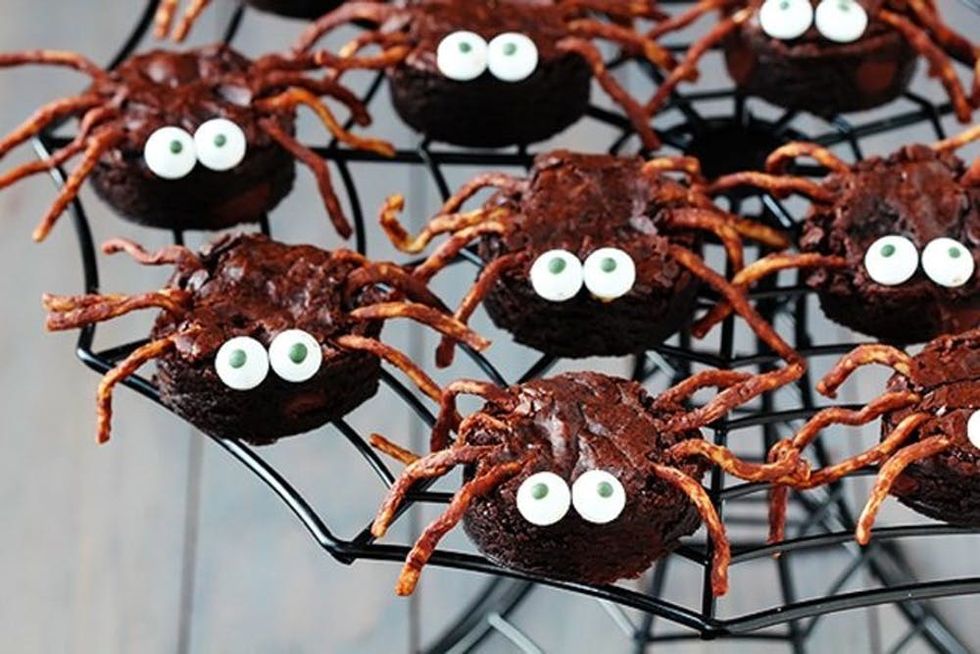 Ingredients needed to make Spider Brownies
– 1 pan of baked brownies
– 1/2 cup semisweet chocolate chips
– 2 cups chow mein noodles
candy eye balls
– circle cookie cutter or biscuit cutter (mine was 1.5-inch diameter)
– toothpicks
How to make Spider Brownies
– Use a circle cookie/biscuit cuter to cut out your desired size of circles for the spider abdomen.
– Place on wax paper for prep, or place them right on your serving tray.
– In the microwave or a double-boiler, melt the chocolate chips in a medium-sized bowl. – Then remove 1 tablespoon of the melted chocolate and set it aside.
And then gently stir the chow mein noodles into the remaining melted chocolate until all of the noodles are coated.
– Spread the noodles out somewhat on a plate covered with wax paper (you don't need to completely separate them), and then pop it in the freezer for about 10 minutes to chill and re-harden the chocolate.
– Once chilled, remove the chocolate covered noodles, and pick out some long ones to use as the spider "legs". Use a toothpick to poke 8 holes on the top of the brownie circles around the edges, then poke the noodles into the holes to be the legs.
– Then take the tablespoon of melted chocolate that you set aside, and use the toothpick to transfer a dot of melted chocolate to the back of each candy eyes to be the "glue".
– Place the eyes on the front of the brownie circles.
Serve the brownie bites immediately, or cover to keep for up to 4 days
Via: Gimme some Oven
Monster Brownie Pizza
Monster. Brownie. Pizza. BROWNIE. PIZZA.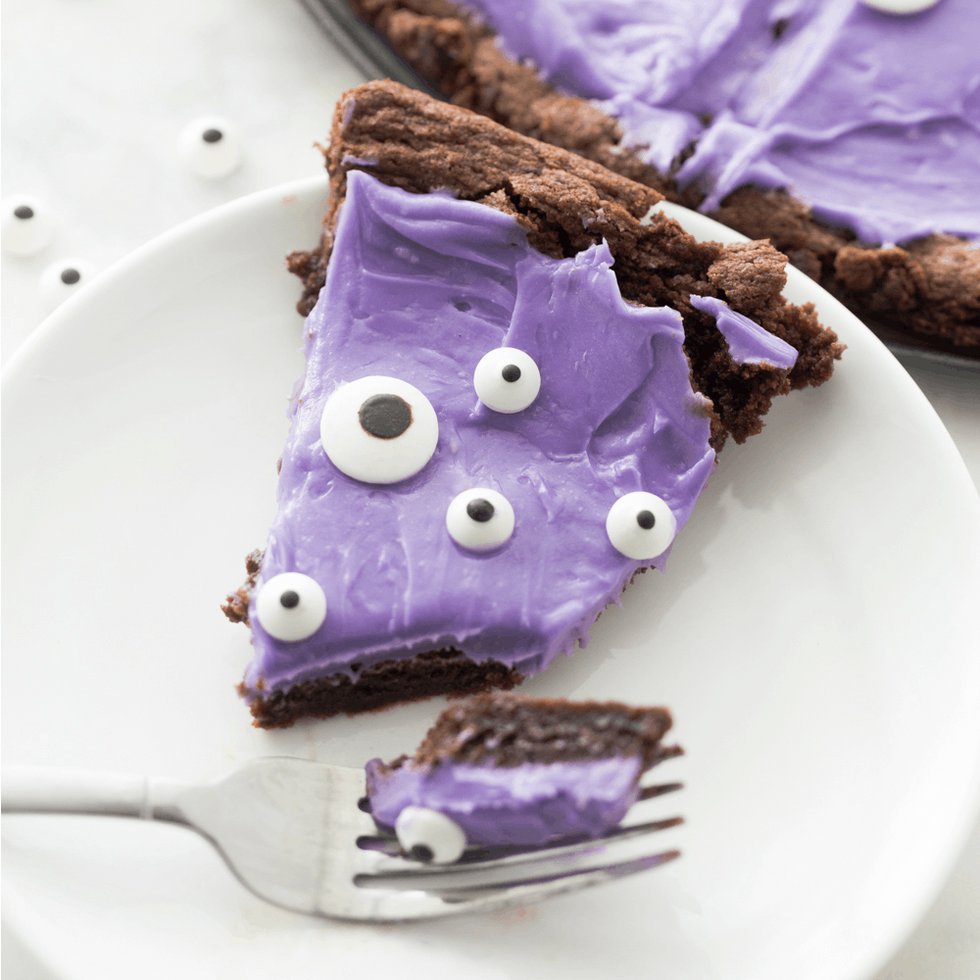 Ingredients needed to make Monster Brownie Pizza
– ⅔ Cup Flour
– ⅔ Cup Unsweetened Cocoa Powder
– 2 Tbsp. Cornstarch
– 1 tsp. Salt
– 1 Cup Sugar
– 1 Cup Brown Sugar
– ½ Cup Butter Softened (1 stick)
– ¼ Cup Oil (Canola oil or vegetable oil)
– 3 Large Eggs
– 2 tsp. Vanilla
For the Frosting
– Purple Food Coloring
. You could also use orange or green.
– 1 ½ Cups of Powdered Sugar
– 1 tsp. Of Vanilla Extract
– 1 8 oz. Package of Cream Cheese
– Different Sizes of Candy Eyes
How to make Monster Brownie Pizza
– In a Large Mixing Bowl Combine Butter, and Sugar and beat until smooth.
– Add in Oil, Eggs and Vanilla and Mix Well
– In a separate bowl combine Flour, Cocoa Powder, Cornstarch, and Salt
– Slowly mix dry ingredients into wet ingredients until everything is blended well.
– Pour into a Greased 12" Pizza Pan and bake at 325 Degrees for 20 minutes.
– Cool completely before frosting.
– For Frosting combine all ingredients in a Blender and Beat until smooth
– Add in Food Coloring and mix well until the color is bright and playful
– Frost Brownie using Colored Frosting, then place Different Size Candy Eyes all over the top of the Brownie.
Via: Passion for Savings
Use your Imagination!
The last thing on our list is simply to use your imagination! There are an infinite amount of way to celebrate Halloween, even during a pandemic. We may have collected a lot of ideas, but it's up to you to execute them. Stay safe, and happy Halloween!